Calistoga Tasting Room
---
Enter to win an autographed football from Coach Vermeil!
Click here to download the entry form and e-mail to: info@vermeilwines.com. The contest is on-going, so be sure to send us a new entry every few months! Winners will be notified first via email, then by phone.
---
---
Check Out What's Happening in Calistoga!
---
December 2014
There are still so many wonderful things to do before the New Year. Make it a date to visit us in the Calistoga and Napa tasting rooms to discover the incredible selections available from Vermeil Wines and the wonderful places that surround us. You'll be glad you did!

19th Annual Calistoga Lighted Tractor Parade
Saturday, December 6
Downtown Lincoln Avenue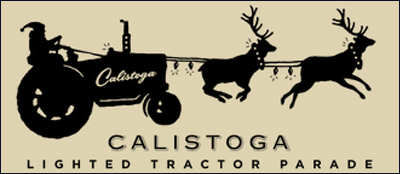 It's time once again for the Calistoga Lighted Tractor Parade which has been described as one of the most over-the-top parades in America. It is the ultimate small-town holiday celebration with vintage and modern tractors, antique trucks, and construction equipment covered with dazzling lights. See the spectacle and join in the fun of this unique event. Click here for more information.



Cheer in the New Year
Wednesday, December 31, 2014
County Fairgrounds - 1435 N. Oak Street




Party like a rock star at the return of Celebrate! Napa Valley's all-inclusive New Year's Eve Bash on Wednesday, December 31st, 2014 in Calistoga. Experience a night of fine dining in downtown Calistoga then hop on the courtesy shuttle to the Fairgrounds Events Center where you'll enjoy a premium open bar, over-the-top dessert bar, late-night munchies, and dancing to classic party tunes performed by Night Fever. Count down to midnight with friends, family, and Schramsberg! Click here for more information.



---

November 2014

Calistoga Farmer's Market
1311 Washington Street, Calistoga



Every Saturday in November enjoy farm fresh delights at the weekly Farmer's Market where you will find locally grown seasonal produce, cut flowers, packaged goods and unique craft and gift items. This is a wonderful way to spend a Saturday! Click here for more information.

Family Fun Day Cornucopia
Saturday, November 8, 2014 at Napa Valley Museum



A family fun day at the museum where you will have an a-maize-ing time with some great craft projects including corn husk flowers, owl ornaments and frontier dolls. This is a free annual event for the whole family. Celebrate the season and have a cornucopia of fun. This is part of a continuing series of special events held each month by the Napa Valley Museum. Click here for more information.

19th Annual Calistoga Lighted Tractor Parade
Saturday, December 6 on Lincoln Avenue Downtown

It's time once again for the Calistoga Lighted Tractor Parade which has been described as one of the most over-the-top parades in America. It is the ult

imate small-town holiday celebration with vintage and modern tractors, antique trucks, and construction equipment covered with dazzling lights. See the spectacle and join in the fun of this unique event.
Click here for more information




---
---
---