2017 Signature Series Set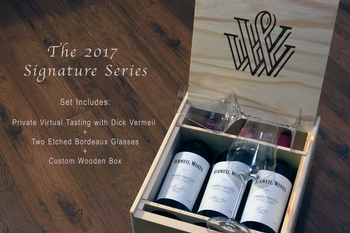 The 2017 Signature Series set of our top tier Cabernet Sauvignon wines is now available! Since we aren't able to pour them for you in person just yet, we've decided to sweeten the deal for your at home enjoyment. Anyone who secures this three pack will get to schedule a private Virtual Tasting session with the Legendary Dick Vermeil, two Bordeaux Wine Glasses from our Tasting Room, and a custom wooden box! Purchase by May 29 to take advantage of this package offer.
The 2017 Jean Louis Vermeil Cabernet Sauvignon
Incredibly aromatic. Filled is lots of classic cassis and raspberry as well as notes of sappy flowers, mint, violet and incense nuances that develop with time in the glass. Flavors of blackberry and tea are savory, allowing the youthful acidity to shine through. The touch of Cabernet Franc rounds out this amazing Cabernet with a tannin structure that will soften with time. This full bodied vintage will age comfortably in your cellars for 15 years
The 2017 Pickett Road Cabernet
An elegant reflection of this vintage. Deeper and darker in color than the others in the Signature Series. A confectionary yet savory lushness of vanilla and oak notes with ripe plumb emerge from the glass. Dark fruits, dark chocolate and hints of licorice coat the palate. A medium to full bodied, rounded balanced Cabernet Sauvignon with a long weighted finish.
The 2017 Rosedale Cabernet Sauvignon
This wine presents itself as fresh and full of life. Bright and elegant with notes of rhubarb, classic crushed red brick and savory red and black fruits with subtle earthy notes. Ripe flavors of luscious bright red fruits with youthful chalky tannins that will soften in the cellar. A heavy medium to full bodied extremely satisfying well balanced Cabernet.