October 20, 2021 | Vermeil Wines
Recipe: Wild Mushroom Risotto with Shaved Truffles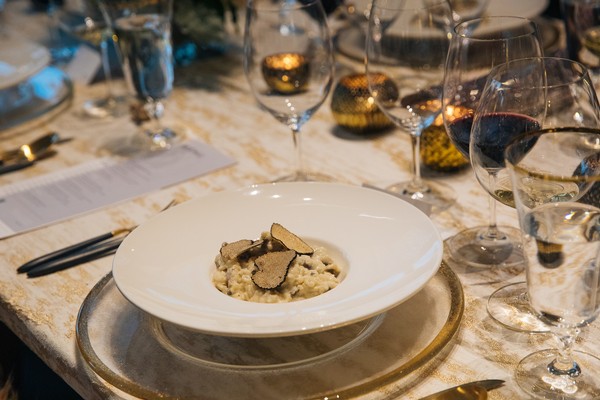 SERVES: 6 PREP TIME: 10 min COOK TIME: 45 min
Recipe borrowed from TheModernProper.com
Vermeil team tested and approved. This warm and cozy dish is the perfect pairing for fall weather and our three fall selections: 2019 Chardonnay, 2018 Zinfandel, and 2018 XXXIV Red Blend. The creaminess of the risotto is a delightful compliment to the Chardonnay, the earthiness of the mushrooms grace the palate alongside the Zinfandel, and the richness of the truffles is a heavenly match to the XXXIV Red Blend. Try the recipe and the pairings!
Suggested Wine Pairings:
2019 Chardonnay
2018 Zinfandel
2018 XXXIV Red Blend
Ingredients:
1 lb Wild mushroom
8 tbsp Butter
2 Small shallots, minced
4 Garlic cloves, minced
2 Fresh thyme sprigs
1/2 tsp Salt
1/2 tsp Freshly ground pepper
3/4 cup Dry white wine
1 tbsp Lemon juice
5 cups Chicken stock (or vegetable)
1 1/2 cups Lundberg family farm's arborio rice
1 cup Heavy cream
1 cup Freshly grated parmesan cheese
Fresh parsley minced, optional
Shaved Truffles on top, optional
Directions:
Warm broth over low heat in a small saucepan.
In a heavy skillet melt half of the butter over medium heat. Add mushrooms and shallots and saute until tender, about 8 minutes. Add garlic, thyme sprigs, salt and pepper and stir for an additional minute. Remove mushroom mixture from pan and set aside.
Add remaining butter to pan over medium heat. Once melted, add rice and stir until rice begins to look translucent, 3-4 minutes.
Add ¾ cup dry white wine and lemon juice and bring to a simmer, stirring constantly until liquid is absorbed. Add mushroom stock or 1 cup of vegetable broth and stir until almost all broth is absorbed. Continuing adding broth 1 cup at a time, and stir until liquid is almost absorbed. (This step takes 20-25 minutes.)

Add mushrooms mixture into the rice and stir to combine. Gently stir in heavy cream and parmesan cheese and cook for an additional 5 min on low heat. Risotto should be creamy, but firm to the bite. Transfer risotto to a serving bowl and top with freshly ground pepper, shaved truffles, parmesan and fresh parsley.
Comments
Commenting has been turned off.