October 23, 2018 | Kristine Mason
Wine Spectator: Thomas Rivers Brown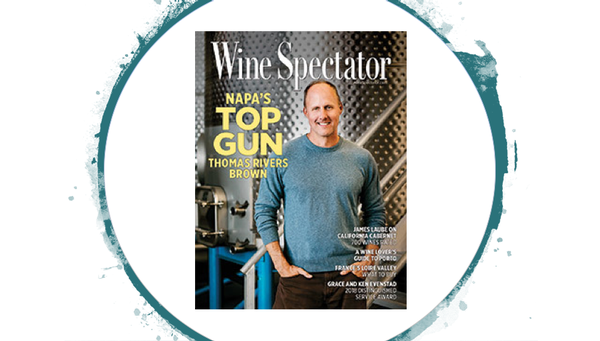 Over two decades, this self-taught winemaker has made an indelible impact on California wine
James Laube
Issue: November 15, 2018
10/23/18, an excerpt from the November issue of Wine Spectator. To read the full article, click here.
....
Brown's wines are much like the man himself-reserved and intellectual, refined in style. He is judicious in his use of smoky, toasty oak, and although wood is evident in his wines it plays the part of backup singer rather than lead vocalist. His clients marvel at the nuance with which oak is integrated into their wines, adding complexity without overwhelming the fruit.
He has proven a master at taming Cabernet's aggressive tendencies and giving the wines a Burgundian mystique. His success with Chardonnay and Pinot Noir promises to further his reputation for finding special sites and crafting wines that express their terroir.
....
Some of the brands Brown works with go back to his start. He assumed duties at Chiarello and Outpost from Jordan when the latter moved to Turley Cellars. Casa Piena, GTS, Shibumi Knoll and Maybach became clients in the early 2000s. Among the more recent additions are Revana, Round Pond, Vermeil, Stone the Crows, Pulido Walker, Riverain and Ampere. Ferrari-Carano in Alexander Valley had been struggling with its Prevail bottling, but having Brown work with the wine resulted in a quantum leap in Prevail's quality. Brown is also organizing a wine program for the new Four Seasons being built in Calistoga.
*Among the featured list of wines is our 2015 Rosedale Block Cabernet receiving 92 points; acquire here.
.....
To register on Brown's radar, candidates need to have a driver vineyard that will propel the wines-and very deep pockets. The latter criteria is the easier of the two; vineyard prices and availability remain far bigger obstacles. Land or a planted vineyard in Napa Valley hovers in the $200,000 an acre range for the choicest spots. Some go for $1 million.
"If someone doesn't have a vineyard or doesn't understand the business, that's an easy 'no,' " says Brown. He believes a wine's success is directly tied to the quality of the vineyards it comes from. "If you harvest B+ grapes, you'll get B+ wines," he says. He's leaned how to pick his wine partners. All of his clients have A+ vineyards.
....
Brown's track record is unassailable. There have been no serious toe stubs. His wines are beautifully crafted, rich and expansive, fun to drink and a good bet to gain. There's a common theme that runs through all of Brown's wines, reds and whites alike. It revolves around complexity, graceful balance and generosity of flavors. The oldest wines of his I've tried have held up very nicely, still reminiscent of their earlier presence, full of fruit and shaded by exotic oak. He doesn't miss the tiniest of details.
....
One thing you need to know about Brown is he's a Southerner. He grew up in Sumter, S.C., a one-time plantation settlement named for Gen. Thomas Sumter, the "Fighting Gamecock" of the Revolutionary War. Modern Sumter, a town of approximately 40,000, remains a tranquil setting that could evoke Andy Griffith's mythical Mayberry, where no one locked their doors at night and Main Street had one stoplight.
"Growing up in the South gives you an accent, very good manners, 'yes sir, no sir,' formality, and no slouching in your chair," he says, expressing his dry sense of humor. Traditions stick and etiquette matters.
....
Many parts of Calistoga remind Brown of his hometown. He and his family reside on a shady street of handsome old homes in the downtown area of Napa's northernmost city. Attending the Fourth of July parade is a community tradition. Tourists swarm for the mud baths and a view of the occasional geyser from the hot springs nearby and to bask in the mellow vibe of the city's Old West charm. No one locks their doors there, either.
....
In Brown's wine world, it's all about making the best. That's the goal for most vintners, of course, but Brown has put a system into place where it's clear where he starts and where he intends to finish. His approach is to win over the palates of wine lovers who can also appreciate the scope of his efforts. Not just anyone can do that, and he's become a master.
To read the full article, visit WineSpectator.com.
Comments
Commenting has been turned off.